Do diet apps really work?
Absolutely. However, diet apps need to offer motivation, support, and speak to people on a personal level to be effective. We selected the 9 diet apps that stand out in 2021 and what makes them so effective.
Apart from the most recent pandemic, another global pandemic is ravaging the world — the obesity pandemic.
Unfortunately, COVID added fuel to the fire, causing many people to gain weight, making the growing problem of excessive fat accumulation much worse. But luckily, being overweight or obese is preventable, and one of the best ways to lose weight is by tracking how much you eat. Diet apps make it easy by doing all the math, but their real value is offering support, motivation, and speaking to people on a personal level.
Join us as we explore the nine diet and nutrition-tracking apps that stand out in 2021.
Do Diet and Nutrition Apps Work?
The weight loss industry is booming ($254.9 billion in 2021 and is projected to reach $377.3 billion by 2026). Access to the Internet, mobile health apps, and devices are increasing. Advanced studies showing the risk of being obese have been published, confirmed, and re-confirmed.
And yet, obesity rates are rising:
The obesity prevalence rate in the US was nearly 50% in 2017-2018 (CDC).
Worldwide obesity has nearly tripled since 1975 (WHO).
Obese-related conditions (heart disease, stroke, type 2 diabetes, and certain types of cancer) are among the leading causes of preventable, premature death (CDC).
Losing weight isn't easy. Millions struggle, trying one diet after another, yo-yo dieting until they give up and return to their old ways. Diets fail because most of them fail to address underlying issues like why we're fat in the first place, what triggers overeating, and how to make smarter food choices.
But it doesn't have to be that way.
The Best Nutrition Tracking Apps And Weight-Loss Apps
For diets and apps that track nutrition to be successful, it takes more than a formula of calories in/calories out and a flashy user interface. Instead, diets work when people choose a sustainable path, become more conscious of their food intake, and make smarter choices.
Let's look at the most popular nutrition tracking apps (including specific diets) and what makes them special.
Best Food Tracking Apps
We looked at MyFitnessPal, Lose it!, Fitbit, Lifesum, Noom, and Korobox. All the apps have calorie tracking, a large database of foods, and some degree of customization and personalization.
MyFitnessPal
MyFitnessPal has helped millions of people lose weight and keep it off with the help of its nutrition and calorie tracking capabilities.
Standout feature: Meal Scan
Meal Scan is a premium feature that uses image recognition (specifically the Passio SDK) to identify food with your smartphone's camera. This feature is currently available for iOS 13+. Users simply access the feature within the app, snap a picture, and then make tweaks in the serving size and add it to their food diary.
Lose It! – Calorie Counter
Lose It! is a calorie tracker app that has helped its members lose 80+ million pounds of weight (and counting).
Standout feature: DNA Insights
Lose It! DNA Insights is a premium feature that analyzes your DNA results from AncestryDNA, 23andMe, and gives you personalized insights into what you may be predisposed to and how to make the most of your weight loss journey.
Fitbit App
Whether with a smart device (like the iconic Fitbit) or without, the Fitbit app allows users to track their nutrition, exercise, and much more.
Standout feature: Daily Readiness Score
Daily Readiness Score is a Fitbit premium feature that shows you if you need to spend more time recovering or if you're ready to work out. The score is calculated by comparing your recent activity, sleep data, and heart rate against your baseline. This feature is compatible with select Fitbit devices.
Lifesum - Calorie Counter
Lifesum is an all-in-one calorie tracker, meal planner, and health tracker. In addition, it supports specific diets like Keto, Paleo, fasting, among others.
Standout feature: Life Score
An element of gamification can help retain users, and Lifesum demonstrates this with its Life Score metric. Initially, the score is based on 41 questions and is adjusted weekly to reflect how well you've been eating and tracking. Metrics like Life Score help with forming healthy habits and long-term changes in health and fitness.
Noom
Noom is a food tracker that uses human psychology to help people lose weight and create a sustainable diet for themselves.
Standout feature: Data-driven personalization
Regardless of having only a paid version of its app, Noom makes up for this with data-driven personalization. The app uses big data, machine learning, AI, and clustering algorithms to give you personalized lessons, tips, motivation, and coaching. Also, Noom uses a research-backed approach (with real studies) to provide the best mobile health app possible.
Korobox
Korobox Meet Korobox ─ cross-platform app for office snack service How we put our revolutionary idea in motion to help you delight your workforce with a digital-enabled honesty snacks box
Standout feature: QR and barcode scanner
Available on: Android
Nutrition Apps for Special Diets
It doesn't matter which diet you choose to lose weight. It only matters that you can follow the diet for life. We highlighted features that make three apps stand out from others: Carb Manager, Cronometer, and Fasting App.
Carb Manager
Carb Manager is one of the best diet apps for Keto and low-carb diet practitioners. It calculates net carbs and macros, has a calories counter, and a community of like-minded people.
Standout feature: Diet-agnostic
Carb Manager supports Keto and variations of Keto and low-carb diets. You can choose from a list or create a custom macro plan, and the app shows you if you're on track or veering away from your macro goals. In addition, Carb Manager features voice logging, which makes food tracking as easy as saying what you ate out loud.
Cronometer
Cronometer supports multiple diets like Keto, vegan, Paleo, and more. The free version of the app provides nutrition tracking and a full micronutrient summary.
Standout feature: Accurate data sources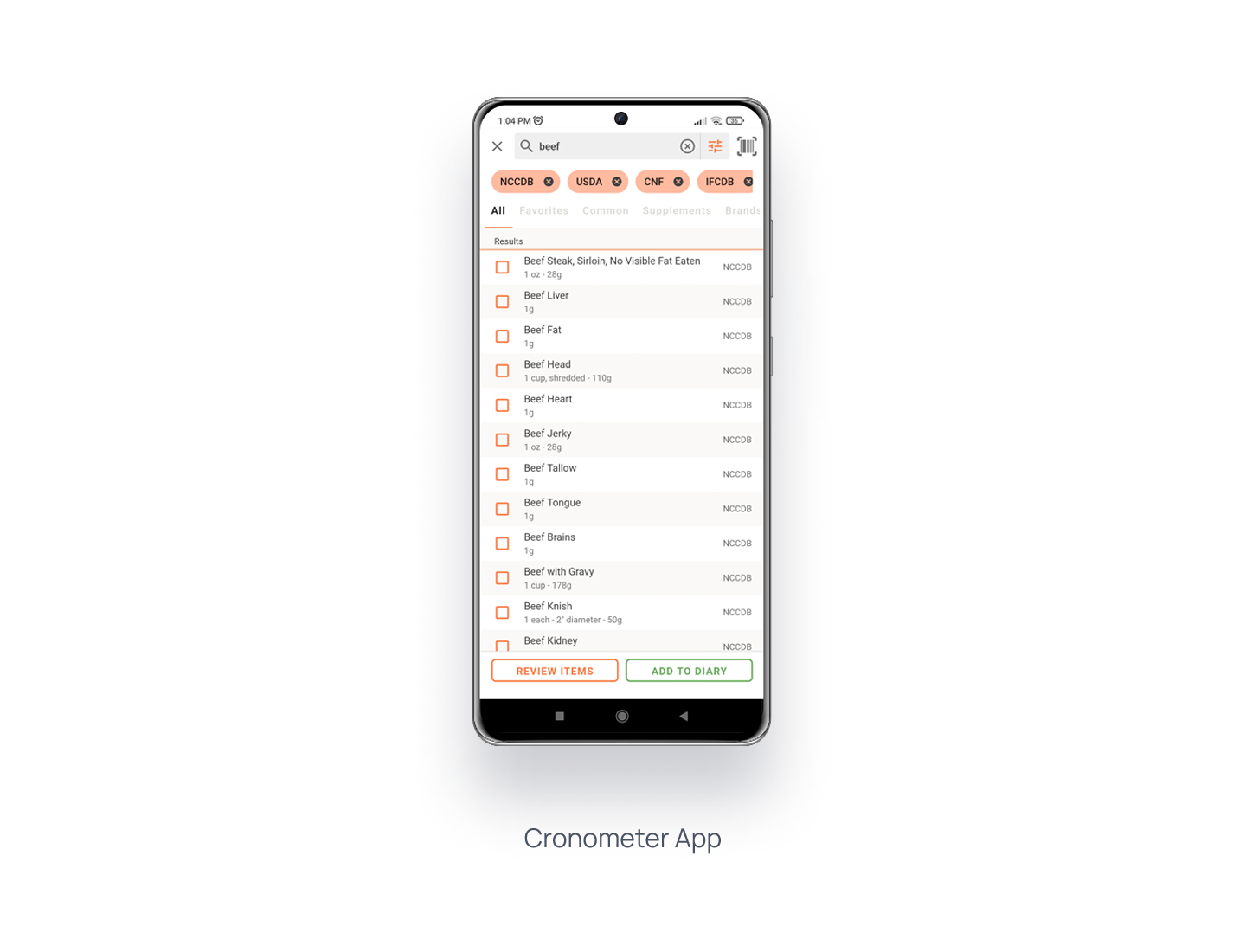 Unlike other food tracking apps, Cronometer relies on verified, accurate data sources. The three types of databases supported within Cronometer are lab analyzed databases, nutrition label databases, and user-generated databases that have been thoroughly checked. You can also create custom foods/recipes using the same accurate data sources already mentioned.
Fasting App - Fasting Tracker & Intermittent Fast
Fasting App is on the shortlist for the best nutrition apps, thanks to its simplicity and effectiveness. It helps people lose weight by fasting and supporting them on their weight loss journey.
Standout feature: Custom fasting plans
Fasting App allows you to fully customize your fasting plan or choose from a pre-programmed plan based on your goals. By following the plans outlined in the app, you can learn to control hunger and shed excess pounds.
Available on: Android
How can you help people diet and track what they eat?
If you want to develop the best free food tracking app, here's what you need to include apart from the standard set of features:
Option to customize
Weight loss isn't cookie-cutter, so your app, plans, and content shouldn't be one-size-fits-all. Instead, offer customization options for special diets like Fasting App's custom fasting plans or Carb Manager's diet-agnostic approach.
Personalization
Personalizing the experience with modern tech like AI and machine learning is a great way to attract users and keep them on track. A good example is Noom, which has proven that a personalized, psychological approach can do wonders for helping people form better habits and lose weight for good.
Integrations
Integrating apps, devices, and data sources can turn a regular-old calorie tracker into a health and fitness center combined with a personal trainer. For example, Lose It!'s DNA Insights feature goes deep into how genetics affects weight loss and nutrition, while Cronomter's integrated food databases aim to provide the most accurate nutritional information.
Unique metrics
Gamifying your app or using unique metrics as Fitbit and Lifesum have done can give users something to aim for. Also, it adds a bit of healthy competition to the mix so that users can flex their achievements online.
Unique features
MyFitnessPal is one of a handful of diet apps to offer a snap-and-track way of logging food. Looking at the most popular developers can give us clues as to what will be a must-have feature in a few years.
FAQ
What's the best nutrition tracking app?
What is the best weight loss meal plan app?
Is there a better app than MyFitnessPal?
Can a diet app help me lose weight?
How much do diet apps cost?